Citrus Soy Glazed Wings
(function() { document.addEventListener('DOMContentLoaded', function() { var componentMetadata = JSON.parse('\x7b\x22componentName\x22\x3a\x22RatingAndReviewCounts_3f096167-8a59-43c4-961a-84f57d84be42\x22,\x22deferOptions\x22\x3a\x7b\x22deferComponent\x22\x3afalse,\x22deferType\x22\x3a\x22None\x22,\x22deferId\x22\x3a\x22r8ea9d6622b7645efb5770bff0388a051\x22,\x22deferredContainerId\x22\x3a\x22\x2fmain\x2frdpRatingAndReview\x22,\x22deferredContainerView\x22\x3anull\x7d,\x22viewName\x22\x3a\x22RatingAndReviewCounts\x22\x7d'); var configuration = {}; var moduleName = 'ratingAndReviewCounts'; var isVueModule = false; GeneralMills.PandoSites.RegisterControlInstance(moduleName, configuration, componentMetadata, isVueModule) }); })();
(function() { document.addEventListener('DOMContentLoaded', function() { var componentMetadata = JSON.parse('\x7b\x22componentName\x22\x3a\x22ActionToolbar_5195e0b3-412b-407e-af35-d964785146d3\x22,\x22deferOptions\x22\x3a\x7b\x22deferComponent\x22\x3afalse,\x22deferType\x22\x3a\x22None\x22,\x22deferId\x22\x3a\x22r2c619f05a79c4b2a95304c5aa2af2bf3\x22,\x22deferredContainerId\x22\x3a\x22\x2fmain\x2finlineActionToolbarMobile\x22,\x22deferredContainerView\x22\x3anull\x7d,\x22viewName\x22\x3a\x22ActionToolbar\x22\x7d'); var configuration = {"contentId":"5c428c14-5fff-43df-a33d-807680fab717","toolbarSettings":{"id":"5195e0b3-412b-407e-af35-d964785146d3","registrationUrl":"/register/reg-fp","regAction":"FAVORITE","eSourceCode":11275,"namePassedToEvents":"RDPToolbarBODY","buttons":[{"addFavoriteErrorMessage":"Sorry, something went wrong. Please save again.","removeFavoriteErrorMessage":"Error occurred while removing from favorites","registrationUrl":"/register/reg-fp","regAction":"FAVORITE","eSourceCode":11275,"isCurrentUserAnonymous":false,"isFavoriteItem":false,"id":"d7038a1d-89e2-4d35-91a8-dba809fc2851","allowedForAnonymousUsers":false,"type":"Favorite","displayName":"Save Recipe","namePassedToEvents":"Favorite","cssClassName":"atButtonFavorite"},{"providerName":"pinterest","providerNamePassedToEvents":"Pinterest","privacyOptOut":false,"privacyOptOutMessage":"\u003cdiv class=\u0027privacyMessage\u0027\u003e\n\u003ch3\u003eThis feature is not available with your current cookie settings.\u003c/h3\u003e\n\u003cp\u003eYou can \u003ca href=\u0027#\u0027 data-show-preference-center=\u00271\u0027\u003eupdate your privacy settings\u003c/a\u003e to enable this content. Please enable "Functional Cookies" to use this feature.\u003c/p\u003e\n\u003c/div\u003e","shareUrlFormat":"//pinterest.com/pin/create/link/?url={0}","id":"d425bad6-ecd0-4323-ae6c-2528e0757f9f","allowedForAnonymousUsers":true,"type":"Social","displayName":"Pinterest","namePassedToEvents":"Pinterest","cssClassName":"atButtonPinterest"},{"providerName":"facebook","providerNamePassedToEvents":"Facebook","privacyOptOut":false,"privacyOptOutMessage":"\u003cdiv class=\u0027privacyMessage\u0027\u003e\n\u003ch3\u003eThis feature is not available with your current cookie settings.\u003c/h3\u003e\n\u003cp\u003eYou can \u003ca href=\u0027#\u0027 data-show-preference-center=\u00271\u0027\u003eupdate your privacy settings\u003c/a\u003e to enable this content. Please enable "Functional Cookies" to use this feature.\u003c/p\u003e\n\u003c/div\u003e","shareUrlFormat":"//facebook.com/sharer/sharer.php?u={0}","id":"6ef95c20-c463-4c29-bcae-24e31ade2c16","allowedForAnonymousUsers":true,"type":"Social","displayName":"Facebook","namePassedToEvents":"Facebook","cssClassName":"atButtonFacebook"},{"templateId":"49ea4ab1-767d-497f-8521-8956bf53ee30","dialogHeading":"Email Recipe","emailCode":"BC_ContentEmail","dialogSettings":{"cancelButtonText":"Cancel","copyToSenderLabel":"Send a Copy to Myself","emailAddressesLabel":"* Email Address(es)","emailInstructionText":"Separate email addresses with commas","fromText":"From:","privacyPolicyText":"\u003cp\u003e\u0026copy;2022 General Mills, Inc. All Rights Reserved. This information will only be used to send an email to your friend(s) and will not be saved. Please read our \u003ca rel=\u0022noopener noreferrer\u0022 rel=\u0022noopener noreferrer\u0022 href=\u0022http://www.generalmills.com/company/privacy-policies/privacy-policy-us\u0022 target=\u0022_blank\u0022 shape=\u0022rect\u0022\u003ePrivacy Policy\u003c/a\u003e.\u003c/p\u003e","requiredFieldText":"* Required","sendButtonText":"Send","senderEmailAddressLabel":"* Your Email Address","senderFirstNameLabel":"* Your First Name","sendToText":"Send To:"},"recaptchaPublicKey":"6LfU_icUAAAAALSqSjRg5hqZwbPr1b8k-_80a_S_","id":"50fce9dc-c8b1-4c53-a134-c5874edbd15e","allowedForAnonymousUsers":true,"type":"Email","displayName":"Email","namePassedToEvents":"Email","cssClassName":"atButtonEmail"}],"isSticky":false},"userSettings":{"isCurrentUserAnonymous":true,"isFavoriteItem":false,"privacyOptOut":false},"pageAttributes":{"title":"Citrus Soy Glazed Wings","description":"Blogger Beth Dooley from Seasonal Appetites shares a favorite recipe.","image":"https://images-gmi-pmc.edge-generalmills.com/34977ce2-38cc-458e-afa6-96dc04b6e5c9.jpg","url":"http%3a%2f%2fwww.bettycrocker.com%2frecipes%2fcitrus-soy-glazed-wings%2f5c428c14-5fff-43df-a33d-807680fab717","contentType":"Recipe","contentId":"5c428c14-5fff-43df-a33d-807680fab717"}}; var moduleName = 'actionToolbar'; var isVueModule = true; GeneralMills.PandoSites.RegisterControlInstance(moduleName, configuration, componentMetadata, isVueModule) }); })();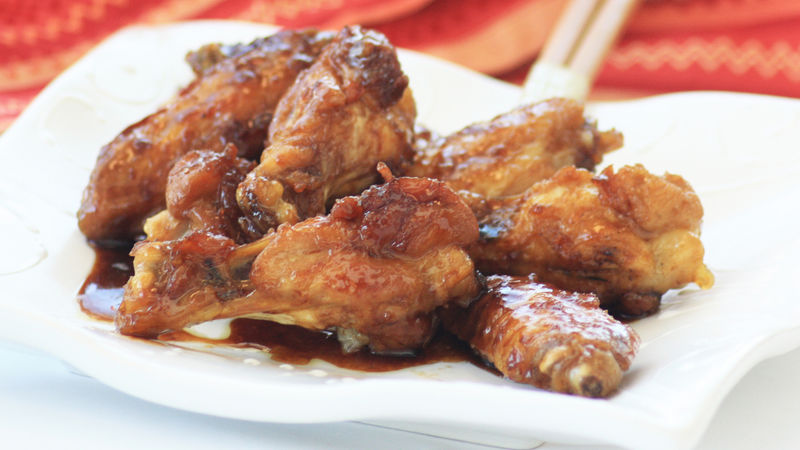 Prep

10

min

Total

30

min

Servings

6
(function() { document.addEventListener('DOMContentLoaded', function() { var componentMetadata = JSON.parse('\x7b\x22componentName\x22\x3a\x22ThirdPartyScript_35eaf3a1-8d63-41ff-a5a8-30abc4568cc0\x22,\x22deferOptions\x22\x3a\x7b\x22deferComponent\x22\x3atrue,\x22deferType\x22\x3a\x22OnDemand\x22,\x22deferId\x22\x3a\x22r4f67031353a24322803afd194f21f8cd\x22,\x22deferredContainerId\x22\x3a\x22\x2fmain\x2frdpBuyNowTop\x22,\x22deferredContainerView\x22\x3a\x22ThirdPartyScript\x22\x7d,\x22viewName\x22\x3a\x22ThirdPartyScript\x22\x7d'); var configuration = {"placeholderName":"rdpBuyNowTop","domContent":"\u003cdiv id=\u0022whisk-target-container-rdp-top\u0022\u003e\u003c/div\u003e","scriptContent":"https://cdn.whisk.com/sdk/shopping-list.js","onLoadScript":"var whisk = window.whisk || {};\r\nwhisk.queue = whisk.queue || [];\r\nvar whiskViewEventHasFired = window.whiskViewEventHasFired || false;\r\n\r\nvar whiskcontainer = document.getElementById(\u0022whisk-target-container-rdp-top\u0022);\r\nif (whiskcontainer != null) {\r\n\r\n whisk.queue.push(function () {\r\n whisk.shoppingList.defineWidget(\u0022whisk-target-container-rdp-top\u0022, {\r\n trackingId: \u0022wx-75324683-e4b28ed8\u0022, // social share bar button\r\n whiteLabel: \u0022bettycrocker\u0022\r\n });\r\n\r\n whisk.events.subscribe(\u0022whisk-target-container-rdp-top\u0022, \u0022view\u0022, function (type, data) {\r\n if (!whiskViewEventHasFired) {\r\n whiskViewEventHasFired = true;\r\n GeneralMills.Analytics.raiseEvent({\r\n EventType: \u0022Buy_view\u0022,\r\n VendorExperience: \u0022Whisk_recipe\u0022\r\n });\r\n }\r\n });\r\n\r\n whisk.events.subscribe(\u0022whisk-target-container-rdp-top\u0022, \u0022click\u0022, function (type, data) {\r\n GeneralMills.Analytics.raiseEvent({\r\n EventType: \u0022Buy_click\u0022,\r\n Position: \u0022Inline Toolbar\u0022,\r\n VendorExperience: \u0022Whisk_recipe\u0022\r\n });\r\n });\r\n\r\n });\r\n\r\n whisk.queue.push(function () {\r\n whisk.display(\u0022whisk-target-container-rdp-top\u0022);\r\n });\r\n}"}; var moduleName = 'thirdPartyScript'; var isVueModule = true; GeneralMills.PandoSites.RegisterControlInstance(moduleName, configuration, componentMetadata, isVueModule) }); })();
Save

Print

Pinterest

Facebook

Email
(function() { document.addEventListener('DOMContentLoaded', function() { var componentMetadata = JSON.parse('\x7b\x22componentName\x22\x3a\x22ActionToolbar_7cb1db4f-976e-4828-8827-fca6f44eeda4\x22,\x22deferOptions\x22\x3a\x7b\x22deferComponent\x22\x3afalse,\x22deferType\x22\x3a\x22None\x22,\x22deferId\x22\x3a\x22rafc1a32abd444320bd629c0f031e12a1\x22,\x22deferredContainerId\x22\x3a\x22\x2fmain\x2finlineActionToolbarDesktop\x22,\x22deferredContainerView\x22\x3anull\x7d,\x22viewName\x22\x3a\x22ActionToolbar\x22\x7d'); var configuration = {"contentId":"5c428c14-5fff-43df-a33d-807680fab717","toolbarSettings":{"id":"7cb1db4f-976e-4828-8827-fca6f44eeda4","registrationUrl":"/register/reg-fp","regAction":"FAVORITE","eSourceCode":11275,"namePassedToEvents":"RDPToolbarBODY","buttons":[{"addFavoriteErrorMessage":"Sorry, something went wrong. Please save again.","removeFavoriteErrorMessage":"Error occurred while removing from favorites","registrationUrl":"/register/reg-fp","regAction":"FAVORITE","eSourceCode":11275,"isCurrentUserAnonymous":false,"isFavoriteItem":false,"id":"a4fff957-6f0a-4e2f-820f-3f2cfbceef64","allowedForAnonymousUsers":false,"type":"Favorite","displayName":"Save","namePassedToEvents":"Favorite","cssClassName":"atButtonFavorite"},{"layoutParameter":"p%3d1","id":"be734732-3817-43ea-bf6e-636d3876b6ce","allowedForAnonymousUsers":true,"type":"Print","displayName":"Print","namePassedToEvents":"Print","cssClassName":"atButtonPrint"},{"providerName":"pinterest","providerNamePassedToEvents":"Pinterest","privacyOptOut":false,"privacyOptOutMessage":"\u003cdiv class=\u0027privacyMessage\u0027\u003e\n\u003ch3\u003eThis feature is not available with your current cookie settings.\u003c/h3\u003e\n\u003cp\u003eYou can \u003ca href=\u0027#\u0027 data-show-preference-center=\u00271\u0027\u003eupdate your privacy settings\u003c/a\u003e to enable this content. Please enable "Functional Cookies" to use this feature.\u003c/p\u003e\n\u003c/div\u003e","shareUrlFormat":"//pinterest.com/pin/create/link/?url={0}","id":"58ba9650-477b-4abe-bb46-1a60912cc27c","allowedForAnonymousUsers":true,"type":"Social","displayName":"Pinterest","namePassedToEvents":"Pinterest","cssClassName":"atButtonPinterest"},{"providerName":"facebook","providerNamePassedToEvents":"Facebook","privacyOptOut":false,"privacyOptOutMessage":"\u003cdiv class=\u0027privacyMessage\u0027\u003e\n\u003ch3\u003eThis feature is not available with your current cookie settings.\u003c/h3\u003e\n\u003cp\u003eYou can \u003ca href=\u0027#\u0027 data-show-preference-center=\u00271\u0027\u003eupdate your privacy settings\u003c/a\u003e to enable this content. Please enable "Functional Cookies" to use this feature.\u003c/p\u003e\n\u003c/div\u003e","shareUrlFormat":"//facebook.com/sharer/sharer.php?u={0}","id":"9e7892b7-5ea2-441b-ab66-55a566402b31","allowedForAnonymousUsers":true,"type":"Social","displayName":"Facebook","namePassedToEvents":"Facebook","cssClassName":"atButtonFacebook"},{"templateId":"49ea4ab1-767d-497f-8521-8956bf53ee30","dialogHeading":"Email Recipe","emailCode":"BC_ContentEmail","dialogSettings":{"cancelButtonText":"Cancel","copyToSenderLabel":"Send a Copy to Myself","emailAddressesLabel":"* Email Address(es)","emailInstructionText":"Separate email addresses with commas","fromText":"From:","privacyPolicyText":"\u003cp\u003e\u0026copy;2022 General Mills, Inc. All Rights Reserved. This information will only be used to send an email to your friend(s) and will not be saved. Please read our \u003ca rel=\u0022noopener noreferrer\u0022 rel=\u0022noopener noreferrer\u0022 href=\u0022http://www.generalmills.com/company/privacy-policies/privacy-policy-us\u0022 target=\u0022_blank\u0022 shape=\u0022rect\u0022\u003ePrivacy Policy\u003c/a\u003e.\u003c/p\u003e","requiredFieldText":"* Required","sendButtonText":"Send","senderEmailAddressLabel":"* Your Email Address","senderFirstNameLabel":"* Your First Name","sendToText":"Send To:"},"recaptchaPublicKey":"6LfU_icUAAAAALSqSjRg5hqZwbPr1b8k-_80a_S_","id":"c9d11c79-b5b2-4bf4-be97-50bf9b3a44dc","allowedForAnonymousUsers":true,"type":"Email","displayName":"Email","namePassedToEvents":"Email","cssClassName":"atButtonEmail"}],"isSticky":false},"userSettings":{"isCurrentUserAnonymous":true,"isFavoriteItem":false,"privacyOptOut":false},"pageAttributes":{"title":"Citrus Soy Glazed Wings","description":"Blogger Beth Dooley from Seasonal Appetites shares a favorite recipe.","image":"https://images-gmi-pmc.edge-generalmills.com/34977ce2-38cc-458e-afa6-96dc04b6e5c9.jpg","url":"http%3a%2f%2fwww.bettycrocker.com%2frecipes%2fcitrus-soy-glazed-wings%2f5c428c14-5fff-43df-a33d-807680fab717","contentType":"Recipe","contentId":"5c428c14-5fff-43df-a33d-807680fab717"}}; var moduleName = 'actionToolbar'; var isVueModule = true; GeneralMills.PandoSites.RegisterControlInstance(moduleName, configuration, componentMetadata, isVueModule) }); })();
(function() { document.addEventListener('DOMContentLoaded', function() { var componentMetadata = JSON.parse('\x7b\x22componentName\x22\x3a\x22WakeLock_3f096167-8a59-43c4-961a-84f57d84be42\x22,\x22deferOptions\x22\x3a\x7b\x22deferComponent\x22\x3afalse,\x22deferType\x22\x3a\x22None\x22,\x22deferId\x22\x3a\x22rd1f5f878dadf422e9d49e6682692a6c7\x22,\x22deferredContainerId\x22\x3a\x22\x2fmain\x2frdpWakeLockTop\x22,\x22deferredContainerView\x22\x3anull\x7d,\x22viewName\x22\x3a\x22WakeLock\x22\x7d'); var configuration = {"heading":"Ready to Make?","button":{"errorMessage":"","id":"523a67d2-ffc5-4007-ae4d-c925bb4a723e","allowedForAnonymousUsers":true,"type":"WakeLock","displayName":"Keep Screen On","namePassedToEvents":"Wakelock","cssClassName":"atButtonWakeLock"}}; var moduleName = 'wakeLockShared'; var isVueModule = true; GeneralMills.PandoSites.RegisterControlInstance(moduleName, configuration, componentMetadata, isVueModule) }); })();
Save

Shop

Share

Keep Screen On
(function() { document.addEventListener('DOMContentLoaded', function() { var componentMetadata = JSON.parse('\x7b\x22componentName\x22\x3a\x22ActionToolbar_b813a84e-07a7-4d8b-9117-e6abc6d4b730\x22,\x22deferOptions\x22\x3a\x7b\x22deferComponent\x22\x3afalse,\x22deferType\x22\x3a\x22None\x22,\x22deferId\x22\x3a\x22re97ee6c3027a42369e205bd629923c6e\x22,\x22deferredContainerId\x22\x3a\x22\x2fmain\x2fdockingActionToolbar\x22,\x22deferredContainerView\x22\x3anull\x7d,\x22viewName\x22\x3a\x22ActionToolbar\x22\x7d'); var configuration = {"contentId":"5c428c14-5fff-43df-a33d-807680fab717","toolbarSettings":{"id":"b813a84e-07a7-4d8b-9117-e6abc6d4b730","registrationUrl":"/register/reg-fp","regAction":"FAVORITE","eSourceCode":11275,"namePassedToEvents":"RDPToolbarSTICKY","buttons":[{"addFavoriteErrorMessage":"Sorry, something went wrong. Please save again.","removeFavoriteErrorMessage":"Error occurred while removing from favorites","registrationUrl":"/register/reg-fp","regAction":"FAVORITE","eSourceCode":11275,"isCurrentUserAnonymous":false,"isFavoriteItem":false,"id":"a4fff957-6f0a-4e2f-820f-3f2cfbceef64","allowedForAnonymousUsers":false,"type":"Favorite","displayName":"Save","namePassedToEvents":"Favorite","cssClassName":"atButtonFavorite"},{"scriptUrl":"https://cdn.whisk.com/sdk/shopping-list.js","onLoadFunction":"var whisk = window.whisk || {};\r\nwhisk.queue = whisk.queue || [];\r\nwhisk.queue.push(function () {\r\n whisk.shoppingList.addRecipeToList({\r\n recipeUrl: window.location.href.replace(\u0027q.bettycrocker.com\u0027, \u0027bettycrocker.com\u0027),\r\n trackingId: \u0022wx-75324683-8f1f0fa2\u0022, // new action toolbar button ID\r\n whiteLabel: \u0022bettycrocker\u0022\r\n });\r\n GeneralMills.Analytics.raiseEvent({\r\n EventType: \u0022Buy_click\u0022,\r\n Position: \u0022Floating Toolbar\u0022,\r\n VendorExperience: \u0022Whisk_recipe\u0022\r\n });\r\n});\r\n","privacyOptOutMessage":"\u003cdiv class=\u0022privacyMessage\u0022\u003e\n\u003ch3\u003eThis feature is not available with your current cookie settings.\u003c/h3\u003e\n\u003cp\u003eYou can \u003ca href=\u0022#\u0022 data-show-preference-center=\u00221\u0022\u003eupdate your privacy settings\u003c/a\u003e to enable this content. Please enable all cookies to use this feature.\u003c/p\u003e\n\u003c/div\u003e","scriptId":"recipeBuyNow","id":"5e7573b3-5485-4f32-97a1-2d60f9c8c826","allowedForAnonymousUsers":true,"type":"ThirdPartyScript","displayName":"Shop","namePassedToEvents":"Shop Recipe","cssClassName":"atButtonShop "},{"nestedButtons":[{"layoutParameter":"p%3d1","id":"98548857-9ea5-41f8-b70a-20ef90fe2d99","allowedForAnonymousUsers":true,"type":"Print","displayName":"Print Recipe","namePassedToEvents":"Print","cssClassName":"atButtonPrint"},{"providerName":"pinterest","providerNamePassedToEvents":"Pinterest","privacyOptOut":false,"privacyOptOutMessage":"\u003cdiv class=\u0027privacyMessage\u0027\u003e\n\u003ch3\u003eThis feature is not available with your current cookie settings.\u003c/h3\u003e\n\u003cp\u003eYou can \u003ca href=\u0027#\u0027 data-show-preference-center=\u00271\u0027\u003eupdate your privacy settings\u003c/a\u003e to enable this content. Please enable "Functional Cookies" to use this feature.\u003c/p\u003e\n\u003c/div\u003e","shareUrlFormat":"//pinterest.com/pin/create/link/?url={0}","id":"7f8a6497-3b9d-43cb-872c-3da85fbaceb6","allowedForAnonymousUsers":true,"type":"Social","displayName":"Save To Pinterest","namePassedToEvents":"Pinterest","cssClassName":"atButtonPinterest"},{"templateId":"49ea4ab1-767d-497f-8521-8956bf53ee30","dialogHeading":"Email Recipe","emailCode":"BC_ContentEmail","dialogSettings":{"cancelButtonText":"Cancel","copyToSenderLabel":"Send a Copy to Myself","emailAddressesLabel":"* Email Address(es)","emailInstructionText":"Separate email addresses with commas","fromText":"From:","privacyPolicyText":"\u003cp\u003e\u0026copy;2022 General Mills, Inc. All Rights Reserved. This information will only be used to send an email to your friend(s) and will not be saved. Please read our \u003ca rel=\u0022noopener noreferrer\u0022 rel=\u0022noopener noreferrer\u0022 href=\u0022http://www.generalmills.com/company/privacy-policies/privacy-policy-us\u0022 target=\u0022_blank\u0022 shape=\u0022rect\u0022\u003ePrivacy Policy\u003c/a\u003e.\u003c/p\u003e","requiredFieldText":"* Required","sendButtonText":"Send","senderEmailAddressLabel":"* Your Email Address","senderFirstNameLabel":"* Your First Name","sendToText":"Send To:"},"recaptchaPublicKey":"6LfU_icUAAAAALSqSjRg5hqZwbPr1b8k-_80a_S_","id":"5ef619b2-a9b2-4072-a3e4-c4e4402224d1","allowedForAnonymousUsers":true,"type":"Email","displayName":"Share via Email","namePassedToEvents":"Email","cssClassName":"atButtonEmail"},{"providerName":"facebook","providerNamePassedToEvents":"Facebook","privacyOptOut":false,"privacyOptOutMessage":"\u003cdiv class=\u0027privacyMessage\u0027\u003e\n\u003ch3\u003eThis feature is not available with your current cookie settings.\u003c/h3\u003e\n\u003cp\u003eYou can \u003ca href=\u0027#\u0027 data-show-preference-center=\u00271\u0027\u003eupdate your privacy settings\u003c/a\u003e to enable this content. Please enable "Functional Cookies" to use this feature.\u003c/p\u003e\n\u003c/div\u003e","shareUrlFormat":"//facebook.com/sharer/sharer.php?u={0}","id":"2fa7de19-0825-4451-91e1-31c9dd5a63ba","allowedForAnonymousUsers":true,"type":"Social","displayName":"Share on Facebook","namePassedToEvents":"Facebook","cssClassName":"atButtonFacebook"},{"successMessage":"Copied.","errorMessage":"Press Ctrl+C and Enter to copy to clipboard","successMessageDuration":3000,"errorMessageDuration":10000,"id":"f6562643-f31f-40df-afa6-84c83880fff0","allowedForAnonymousUsers":true,"type":"CopyLink","displayName":"Copy Link","namePassedToEvents":"Copy","cssClassName":"atButtonCopyLink"}],"id":"43fd149f-8aec-46c1-ae23-dc71c543747d","allowedForAnonymousUsers":true,"type":"Reveal","displayName":"Share","namePassedToEvents":"Share","cssClassName":"atButtonReveal"},{"errorMessage":"","id":"523a67d2-ffc5-4007-ae4d-c925bb4a723e","allowedForAnonymousUsers":true,"type":"WakeLock","displayName":"Keep Screen On","namePassedToEvents":"Wakelock","cssClassName":"atButtonWakeLock"}],"isSticky":true},"userSettings":{"isCurrentUserAnonymous":true,"isFavoriteItem":false,"privacyOptOut":false},"pageAttributes":{"title":"Citrus Soy Glazed Wings","description":"Blogger Beth Dooley from Seasonal Appetites shares a favorite recipe.","image":"https://images-gmi-pmc.edge-generalmills.com/34977ce2-38cc-458e-afa6-96dc04b6e5c9.jpg","url":"http%3a%2f%2fwww.bettycrocker.com%2frecipes%2fcitrus-soy-glazed-wings%2f5c428c14-5fff-43df-a33d-807680fab717","contentType":"Recipe","contentId":"5c428c14-5fff-43df-a33d-807680fab717"}}; var moduleName = 'actionToolbar'; var isVueModule = true; GeneralMills.PandoSites.RegisterControlInstance(moduleName, configuration, componentMetadata, isVueModule) }); })();
(function() { document.addEventListener('DOMContentLoaded', function() { var componentMetadata = JSON.parse('\x7b\x22componentName\x22\x3a\x22RecipeIntro_3f096167-8a59-43c4-961a-84f57d84be42\x22,\x22deferOptions\x22\x3a\x7b\x22deferComponent\x22\x3afalse,\x22deferType\x22\x3a\x22None\x22,\x22deferId\x22\x3a\x22r18e81bb15b124d55b086bb10bca722a0\x22,\x22deferredContainerId\x22\x3a\x22\x2fmain\x2frdpIntro\x22,\x22deferredContainerView\x22\x3anull\x7d,\x22viewName\x22\x3a\x22RecipeIntro\x22\x7d'); var configuration = {}; var moduleName = 'expandableTextContainer'; var isVueModule = true; GeneralMills.PandoSites.RegisterControlInstance(moduleName, configuration, componentMetadata, isVueModule) }); })();
Ingredients
4

pounds chicken wings, split at the joint

2

tablespoons vegetable oil

1/4

cup soy sauce

1/2

cup fresh orange juice

1/4

cup honey

2

to 4 tablespoons water as needed
(function() { document.addEventListener('DOMContentLoaded', function() { var componentMetadata = JSON.parse('\x7b\x22componentName\x22\x3a\x22RecipeIngredients_3f096167-8a59-43c4-961a-84f57d84be42\x22,\x22deferOptions\x22\x3a\x7b\x22deferComponent\x22\x3afalse,\x22deferType\x22\x3a\x22None\x22,\x22deferId\x22\x3a\x22r006ae3bc37bd4f40bf49c4e319668722\x22,\x22deferredContainerId\x22\x3a\x22\x2fmain\x2frdpIngredients\x22,\x22deferredContainerView\x22\x3anull\x7d,\x22viewName\x22\x3a\x22RecipeIngredients\x22\x7d'); var configuration = {}; var moduleName = 'recipeIngredients'; var isVueModule = false; GeneralMills.PandoSites.RegisterControlInstance(moduleName, configuration, componentMetadata, isVueModule) }); })();
(function() { document.addEventListener('DOMContentLoaded', function() { var componentMetadata = JSON.parse('\x7b\x22componentName\x22\x3a\x22ThirdPartyScript_a79cfa13-5ae2-418b-98d6-5a5802cc39a3\x22,\x22deferOptions\x22\x3a\x7b\x22deferComponent\x22\x3atrue,\x22deferType\x22\x3a\x22OnDemand\x22,\x22deferId\x22\x3a\x22rb22ce3c36ce44ce394bcb04131fcb5c1\x22,\x22deferredContainerId\x22\x3a\x22\x2fmain\x2frdpBuyNow\x22,\x22deferredContainerView\x22\x3a\x22ThirdPartyScript\x22\x7d,\x22viewName\x22\x3a\x22ThirdPartyScript\x22\x7d'); var configuration = {"placeholderName":"rdpBuyNow","domContent":"\u003cdiv id=\u0022whisk-target-container-rdp\u0022\u003e\u003c/div\u003e","scriptContent":"https://cdn.whisk.com/sdk/shopping-list.js","onLoadScript":"var whisk = window.whisk || {};\r\nwhisk.queue = whisk.queue || [];\r\nvar whiskViewEventHasFired = window.whiskViewEventHasFired || false;\r\n\r\nvar whiskcontainer = document.getElementById(\u0022whisk-target-container-rdp\u0022);\r\nif (whiskcontainer != null) {\r\n\r\n whisk.queue.push(function () {\r\n whisk.shoppingList.defineWidget(\u0022whisk-target-container-rdp\u0022, {\r\n trackingId: \u0022wx-75324683-6e5f641e\u0022,\r\n whiteLabel: \u0022bettycrocker\u0022\r\n });\r\n\r\n whisk.events.subscribe(\u0022whisk-target-container-rdp\u0022, \u0022view\u0022, function (type, data) {\r\n if (!whiskViewEventHasFired) {\r\n whiskViewEventHasFired = true;\r\n GeneralMills.Analytics.raiseEvent({\r\n EventType: \u0022Buy_view\u0022,\r\n VendorExperience: \u0022Whisk_recipe\u0022\r\n });\r\n }\r\n });\r\n\r\n whisk.events.subscribe(\u0022whisk-target-container-rdp\u0022, \u0022click\u0022, function (type, data) {\r\n GeneralMills.Analytics.raiseEvent({\r\n EventType: \u0022Buy_click\u0022,\r\n Position: \u0022Ingredients\u0022,\r\n VendorExperience: \u0022Whisk_recipe\u0022\r\n });\r\n });\r\n\r\n });\r\n\r\n whisk.queue.push(function () {\r\n whisk.display(\u0022whisk-target-container-rdp\u0022);\r\n });\r\n}"}; var moduleName = 'thirdPartyScript'; var isVueModule = true; GeneralMills.PandoSites.RegisterControlInstance(moduleName, configuration, componentMetadata, isVueModule) }); })();
Steps
1

Rinse the wings thoroughly under cold running water and pat dry.

2

In a large skillet set over medium flame, heat the oil and sauté the wings until they begin to brown, about 5 to 7 minutes per side. Remove the wings to a plate.

3

Add the soy sauce, orange juice and honey to the skillet with 2 tablespoons of water and stir until combined adding more water if the glaze is too thick.

4

Return the wings to the skillet, reduce the heat to medium low, and cook the wings, stirring occasionally, until they are nicely coated, another 5 to 7 minutes.
(function() { document.addEventListener('DOMContentLoaded', function() { var componentMetadata = JSON.parse('\x7b\x22componentName\x22\x3a\x22RecipeSteps_3f096167-8a59-43c4-961a-84f57d84be42\x22,\x22deferOptions\x22\x3a\x7b\x22deferComponent\x22\x3atrue,\x22deferType\x22\x3a\x22OnDemand\x22,\x22deferId\x22\x3a\x22r3d9c9d052f894466a1a8ebf851168415\x22,\x22deferredContainerId\x22\x3a\x22\x2fmain\x2frdpSteps\x22,\x22deferredContainerView\x22\x3a\x22RecipeDetail\x22\x7d,\x22viewName\x22\x3a\x22RecipeSteps\x22\x7d'); var configuration = {"initAreImagesHidden":false,"hideImagesEventName":"HideStepShots","showImagesEventName":"ShowStepShots","hideImagesButtonText":"Hide Images","showImagesButtonText":"Show Images","hideImagesClass":"rdpHideStepImages"}; var moduleName = 'recipeStepShots'; var isVueModule = true; GeneralMills.PandoSites.RegisterControlInstance(moduleName, configuration, componentMetadata, isVueModule) }); })();
Nutrition
Nutrition Facts are not available for this recipe
(function() { document.addEventListener('DOMContentLoaded', function() { var componentMetadata = JSON.parse('\x7b\x22componentName\x22\x3a\x22RecipeNutritionNonPrint_3f096167-8a59-43c4-961a-84f57d84be42\x22,\x22deferOptions\x22\x3a\x7b\x22deferComponent\x22\x3atrue,\x22deferType\x22\x3a\x22Simple\x22,\x22deferId\x22\x3a\x22rf9e3799e5f41483380bfbcfdb051e357\x22,\x22deferredContainerId\x22\x3a\x22\x2fmain\x2frdpNutrition\x22,\x22deferredContainerView\x22\x3a\x22RecipeDetail\x22\x7d,\x22viewName\x22\x3a\x22RecipeNutritionNonPrint\x22\x7d'); var configuration = {"initIsExpanded":false,"expandEventName":"NutritionExpand","collapseEventName":"NutritionCollapse"}; var moduleName = 'recipeNutrition'; var isVueModule = true; GeneralMills.PandoSites.RegisterControlInstance(moduleName, configuration, componentMetadata, isVueModule) }); })();
© 2022 ®/TM General Mills All Rights Reserved
(function() { document.addEventListener('DOMContentLoaded', function() { var componentMetadata = JSON.parse('\x7b\x22componentName\x22\x3a\x22DoubleClick_5832ff97-3e6c-423c-9693-eef9eaca48d7\x22,\x22deferOptions\x22\x3a\x7b\x22deferComponent\x22\x3atrue,\x22deferType\x22\x3a\x22OnDemand\x22,\x22deferId\x22\x3a\x22rdf07b6fd81f94ce2a27991e32d59782e\x22,\x22deferredContainerId\x22\x3a\x22\x2fmain\x2frdpFeatureAd\x22,\x22deferredContainerView\x22\x3a\x22DoubleClick\x22\x7d,\x22viewName\x22\x3a\x22DoubleClick\x22\x7d'); var configuration = {"adId":"OMP/bettycrocker/recipes/300x250_AutoRefresh_top","minPageWidth":"1000","maxPageWidth":"9999","defaultMinPageWidth":"1000","defaultMaxPageWidth":"9999","enableLyticsIntegration":true,"lyticsWaitTimeThreshold":5000,"size":"[300, 250]","refreshWhenViewed":true,"adContainerId":"ea26e537-f46e-4355-9dc7-b9f240d452d6","doubleClickAdContainerId":"6eb54764-ef29-4971-a6b8-79f9bb875f00","adCaptionText":"Advertisement","networkCode":"/15704463/","relevantMetadata":["Dinner"],"privacyOptOut":false,"continuesBelowText":"Recipe Continues Below"}; var moduleName = 'doubleClick'; var isVueModule = true; GeneralMills.PandoSites.RegisterControlInstance(moduleName, configuration, componentMetadata, isVueModule) }); })();
(function() { document.addEventListener('DOMContentLoaded', function() { var componentMetadata = JSON.parse('\x7b\x22componentName\x22\x3a\x22DoubleClick_0cfeeadf-8841-41d0-bcd1-f69250cf0ac4\x22,\x22deferOptions\x22\x3a\x7b\x22deferComponent\x22\x3atrue,\x22deferType\x22\x3a\x22OnDemand\x22,\x22deferId\x22\x3a\x22r73e25c75941448df8e782ce5ac491b2c\x22,\x22deferredContainerId\x22\x3a\x22\x2fmain\x2frdpFeatureAd\x22,\x22deferredContainerView\x22\x3a\x22DoubleClick\x22\x7d,\x22viewName\x22\x3a\x22DoubleClick\x22\x7d'); var configuration = {"adId":"OMP/bettycrocker/recipes/728x90_top","minPageWidth":"768","maxPageWidth":"999","defaultMinPageWidth":"1000","defaultMaxPageWidth":"9999","enableLyticsIntegration":true,"lyticsWaitTimeThreshold":5000,"size":"[728, 90]","refreshWhenViewed":false,"adContainerId":"a96cbe6f-9a64-421e-a7ec-c92df5815648","doubleClickAdContainerId":"91c5c12d-98f5-4605-89f5-e2c2a9f0882a","adCaptionText":"Advertisement","networkCode":"/15704463/","relevantMetadata":["Dinner"],"privacyOptOut":false,"continuesBelowText":"Recipe Continues Below"}; var moduleName = 'doubleClick'; var isVueModule = true; GeneralMills.PandoSites.RegisterControlInstance(moduleName, configuration, componentMetadata, isVueModule) }); })();
(function() { document.addEventListener('DOMContentLoaded', function() { var componentMetadata = JSON.parse('\x7b\x22componentName\x22\x3a\x22DoubleClick_3b053ad7-affc-4295-9966-00f47602a6b3\x22,\x22deferOptions\x22\x3a\x7b\x22deferComponent\x22\x3atrue,\x22deferType\x22\x3a\x22OnDemand\x22,\x22deferId\x22\x3a\x22r55581a62b41c4bcf8e7899e370452e9b\x22,\x22deferredContainerId\x22\x3a\x22\x2fmain\x2frdpFeatureAd\x22,\x22deferredContainerView\x22\x3a\x22DoubleClick\x22\x7d,\x22viewName\x22\x3a\x22DoubleClick\x22\x7d'); var configuration = {"adId":"OMP/m_bettycrocker/recipes/300x250_top","minPageWidth":"299","maxPageWidth":"767","defaultMinPageWidth":"1000","defaultMaxPageWidth":"9999","enableLyticsIntegration":true,"lyticsWaitTimeThreshold":5000,"size":"[[300,250], [300,600]]","refreshWhenViewed":false,"adContainerId":"2a82736b-012b-48a2-963b-1fd56e877a8f","doubleClickAdContainerId":"3ce563d2-0657-48b2-b6ea-fba73e2b0661","adCaptionText":"Advertisement","networkCode":"/15704463/","relevantMetadata":["Dinner"],"privacyOptOut":false,"continuesBelowText":"Recipe Continues Below"}; var moduleName = 'doubleClick'; var isVueModule = true; GeneralMills.PandoSites.RegisterControlInstance(moduleName, configuration, componentMetadata, isVueModule) }); })();
(function() { document.addEventListener('DOMContentLoaded', function() { var componentMetadata = JSON.parse('\x7b\x22componentName\x22\x3a\x22RelatedContent_6baa3312-5bf3-4b63-aa78-22158dc96112\x22,\x22deferOptions\x22\x3a\x7b\x22deferComponent\x22\x3atrue,\x22deferType\x22\x3a\x22OnDemand\x22,\x22deferId\x22\x3a\x22r87bee862a60c4cda902540cef1b23ad9\x22,\x22deferredContainerId\x22\x3a\x22\x2fmain\x2frdpRelatedContent1\x22,\x22deferredContainerView\x22\x3a\x22RecipeDetail\x22\x7d,\x22viewName\x22\x3a\x22RelatedContent\x22\x7d'); var configuration = {"dataSourceId":"6baa3312-5bf3-4b63-aa78-22158dc96112","isCurrentUserAnonymous":true,"relatedContentList":{"contentId":"5c428c14-5fff-43df-a33d-807680fab717","useModalRegistration":false,"regAction":"","eSrcCode":0,"items":[{"contentId":"3995f9de-29ec-40e5-8b2f-cd90b1a64e13","contentType":"Recipe","title":"Crispy Soy-Glazed Sticky Chicken Wings","isFavorite":false,"linkUrl":"/recipes/crispy-soy-glazed-sticky-chicken-wings/3995f9de-29ec-40e5-8b2f-cd90b1a64e13","smallImageUrl":"//images-gmi-pmc.edge-generalmills.com/1dca228e-1b5a-48d9-8f76-56275549aab5.jpg"},{"contentId":"14fdf69f-e02f-4f68-9934-e0bb595ab25a","contentType":"Recipe","title":"Chicken Breasts with Orange Glaze","isFavorite":false,"linkUrl":"/recipes/chicken-breasts-with-orange-glaze/14fdf69f-e02f-4f68-9934-e0bb595ab25a","smallImageUrl":"//images-gmi-pmc.edge-generalmills.com/fe6e0eda-f1af-4684-b0d1-2f774baa3cd7.jpg"},{"contentId":"9ea7f18d-3c63-4d15-af10-afd3ef8e643d","contentType":"Recipe","title":"Easy Orange-Soy Glaze","isFavorite":false,"linkUrl":"/recipes/easy-orange-soy-glaze/9ea7f18d-3c63-4d15-af10-afd3ef8e643d","smallImageUrl":"//images-gmi-pmc.edge-generalmills.com/127d8638-edcc-451b-9bae-bfa47e78d3df.jpg"},{"contentId":"58f119a1-f701-48ae-a9da-3239a723b1c2","contentType":"Recipe","title":"Chicken Breasts with Orange Glaze for Two","isFavorite":false,"linkUrl":"/recipes/chicken-breasts-with-orange-glaze-for-two/58f119a1-f701-48ae-a9da-3239a723b1c2","smallImageUrl":"//images-gmi-pmc.edge-generalmills.com/ed09174d-7a1d-4b45-a378-f978bb6e043b.jpg"},{"contentId":"a3059ce1-7021-4758-9da2-29b0a0e05d39","contentType":"Recipe","title":"Fajita Chicken Wings","isFavorite":false,"linkUrl":"/recipes/fajita-chicken-wings/a3059ce1-7021-4758-9da2-29b0a0e05d39","smallImageUrl":"//images-gmi-pmc.edge-generalmills.com/68be5acd-0382-49b5-b964-46fa97359a9c.jpg"},{"contentId":"31c3d8ce-c048-4f2a-a1bc-00e55a7264be","contentType":"Recipe","title":"Smoky Cranberry Chicken Wings","isFavorite":false,"linkUrl":"/recipes/smoky-cranberry-chicken-wings/31c3d8ce-c048-4f2a-a1bc-00e55a7264be","smallImageUrl":"//images-gmi-pmc.edge-generalmills.com/a8fb38fc-9419-404e-9d71-f589bac65625.jpg"}]}}; var moduleName = 'relatedContent'; var isVueModule = true; GeneralMills.PandoSites.RegisterControlInstance(moduleName, configuration, componentMetadata, isVueModule) }); })(); (function() { document.addEventListener('DOMContentLoaded', function() { var componentMetadata = JSON.parse('\x7b\x22componentName\x22\x3a\x22RelatedContent_acef8465-9a30-4e27-9e8b-ce208a0068bc\x22,\x22deferOptions\x22\x3a\x7b\x22deferComponent\x22\x3atrue,\x22deferType\x22\x3a\x22OnDemand\x22,\x22deferId\x22\x3a\x22r60e847b5b1cf4533b6ead48a1ae247ce\x22,\x22deferredContainerId\x22\x3a\x22\x2fmain\x2frdpRelatedContent1\x22,\x22deferredContainerView\x22\x3a\x22RecipeDetail\x22\x7d,\x22viewName\x22\x3a\x22RelatedContent\x22\x7d'); var configuration = {"dataSourceId":"acef8465-9a30-4e27-9e8b-ce208a0068bc","isCurrentUserAnonymous":true,"relatedContentList":{"contentId":"5c428c14-5fff-43df-a33d-807680fab717","useModalRegistration":false,"regAction":"","eSrcCode":0,"items":[{"contentId":"facbda71-9c80-4059-a0d1-b945ca3f9896","contentType":"Category","title":"Chicken Wings Recipes","isFavorite":false,"linkUrl":"/recipes/main-ingredient/chicken-recipes/chicken-wings-recipes","smallImageUrl":"https://images-gmi-pmc.edge-generalmills.com/a854bb91-ab5b-4c38-a2d2-5ce7f045fb68.jpg"},{"contentId":"ee61f878-8188-4539-be8e-939cf88b6e7a","contentType":"Category","title":"Slow Cooker Chicken Wing Recipes","isFavorite":false,"linkUrl":"/recipes/preparation/slow-cooker-recipes/slow-cooker-chicken-recipes/chicken-wings","smallImageUrl":"/-/media/Images/BC/recipe-heros/appetizers/slow-cooker-teriyaki-chicken-wings_hero.jpg?W=276"},{"contentId":"06d818c5-ad4d-4ae0-b4b4-d82552607d01","contentType":"Category","title":"Wing Recipes","isFavorite":false,"linkUrl":"/recipes/courses/appetizer-recipes/wing-appetizer-recipes","smallImageUrl":"https://images-gmi-pmc.edge-generalmills.com/a854bb91-ab5b-4c38-a2d2-5ce7f045fb68.jpg"}]}}; var moduleName = 'relatedContent'; var isVueModule = true; GeneralMills.PandoSites.RegisterControlInstance(moduleName, configuration, componentMetadata, isVueModule) }); })();
(function() { document.addEventListener('DOMContentLoaded', function() { var componentMetadata = JSON.parse('\x7b\x22componentName\x22\x3a\x22ConsumerGeneratedContent_3f096167-8a59-43c4-961a-84f57d84be42\x22,\x22deferOptions\x22\x3a\x7b\x22deferComponent\x22\x3atrue,\x22deferType\x22\x3a\x22OnDemand\x22,\x22deferId\x22\x3a\x22r4e8a1fef0d5d4bbe902cadc3febcc280\x22,\x22deferredContainerId\x22\x3a\x22\x2fmain\x2frdpCgc\x22,\x22deferredContainerView\x22\x3a\x22RecipeDetail\x22\x7d,\x22viewName\x22\x3a\x22ConsumerGeneratedContent\x22\x7d'); var configuration = {"loaderScript":"https://apps.bazaarvoice.com/deployments/bettycrocker/main_site/production/en_US/bv.js","type":"RatingAndReview","language":"en","isEmailRequired":true,"isScreenNameRequired":true,"includeRatings":true}; var moduleName = 'consumerGeneratedContent'; var isVueModule = true; GeneralMills.PandoSites.RegisterControlInstance(moduleName, configuration, componentMetadata, isVueModule) }); })();
(function() { document.addEventListener('DOMContentLoaded', function() { var componentMetadata = JSON.parse('\x7b\x22componentName\x22\x3a\x22ConsumerGeneratedContent_3f096167-8a59-43c4-961a-84f57d84be42\x22,\x22deferOptions\x22\x3a\x7b\x22deferComponent\x22\x3atrue,\x22deferType\x22\x3a\x22OnDemand\x22,\x22deferId\x22\x3a\x22r5e4065acb7b84ace803e4dbfd33ebcd3\x22,\x22deferredContainerId\x22\x3a\x22\x2fmain\x2frdpCgc\x22,\x22deferredContainerView\x22\x3a\x22RecipeDetail\x22\x7d,\x22viewName\x22\x3a\x22ConsumerGeneratedContent\x22\x7d'); var configuration = {"loaderScript":"https://apps.bazaarvoice.com/deployments/bettycrocker/main_site/production/en_US/bv.js","type":"QuestionAndAnswer","language":"en","isEmailRequired":true,"isScreenNameRequired":true,"includeRatings":false}; var moduleName = 'consumerGeneratedContent'; var isVueModule = true; GeneralMills.PandoSites.RegisterControlInstance(moduleName, configuration, componentMetadata, isVueModule) }); })();
(function() { document.addEventListener('DOMContentLoaded', function() { var componentMetadata = JSON.parse('\x7b\x22componentName\x22\x3a\x22DoubleClick_17402628-f426-4216-8cb2-527bbb85a1a4\x22,\x22deferOptions\x22\x3a\x7b\x22deferComponent\x22\x3atrue,\x22deferType\x22\x3a\x22OnDemand\x22,\x22deferId\x22\x3a\x22r4d7aede3819c4151b5f8e8e08a7801d3\x22,\x22deferredContainerId\x22\x3a\x22\x2fmain\x2frdpSecondaryAd\x22,\x22deferredContainerView\x22\x3a\x22DoubleClick\x22\x7d,\x22viewName\x22\x3a\x22DoubleClick\x22\x7d'); var configuration = {"adId":"OMP/bettycrocker/recipes/300x250_bottom","minPageWidth":"1000","maxPageWidth":"9999","defaultMinPageWidth":"1000","defaultMaxPageWidth":"9999","enableLyticsIntegration":true,"lyticsWaitTimeThreshold":5000,"size":"[[300,600],[300,250]]","refreshWhenViewed":false,"adContainerId":"19f502ca-f6ff-431b-a013-1d708a8c9b29","doubleClickAdContainerId":"a8da0f59-df9f-4441-8876-b782ab090a78","adCaptionText":"Advertisement","networkCode":"/15704463/","relevantMetadata":["Dinner"],"privacyOptOut":false,"continuesBelowText":"Recipe Continues Below"}; var moduleName = 'doubleClick'; var isVueModule = true; GeneralMills.PandoSites.RegisterControlInstance(moduleName, configuration, componentMetadata, isVueModule) }); })();
(function() { document.addEventListener('DOMContentLoaded', function() { var componentMetadata = JSON.parse('\x7b\x22componentName\x22\x3a\x22DoubleClick_08734287-0e98-4513-a9ae-d4ed8fcc090d\x22,\x22deferOptions\x22\x3a\x7b\x22deferComponent\x22\x3atrue,\x22deferType\x22\x3a\x22OnDemand\x22,\x22deferId\x22\x3a\x22rcd14471e6c2f4649ad2b85e86e20a9cb\x22,\x22deferredContainerId\x22\x3a\x22\x2fmain\x2frdpSecondaryAd\x22,\x22deferredContainerView\x22\x3a\x22DoubleClick\x22\x7d,\x22viewName\x22\x3a\x22DoubleClick\x22\x7d'); var configuration = {"adId":"OMP/bettycrocker/recipes/728x90_bottom","minPageWidth":"768","maxPageWidth":"999","defaultMinPageWidth":"1000","defaultMaxPageWidth":"9999","enableLyticsIntegration":true,"lyticsWaitTimeThreshold":5000,"size":"[728, 90]","refreshWhenViewed":false,"adContainerId":"724cb9b2-413f-4d58-8778-e1779ed5258b","doubleClickAdContainerId":"87b27019-baf2-4a13-a37f-860994fe6877","adCaptionText":"Advertisement","networkCode":"/15704463/","relevantMetadata":["Dinner"],"privacyOptOut":false,"continuesBelowText":"Recipe Continues Below"}; var moduleName = 'doubleClick'; var isVueModule = true; GeneralMills.PandoSites.RegisterControlInstance(moduleName, configuration, componentMetadata, isVueModule) }); })();
(function() { document.addEventListener('DOMContentLoaded', function() { var componentMetadata = JSON.parse('\x7b\x22componentName\x22\x3a\x22DoubleClick_147e3d6b-a87a-4ebe-b45b-4661cb73be28\x22,\x22deferOptions\x22\x3a\x7b\x22deferComponent\x22\x3atrue,\x22deferType\x22\x3a\x22OnDemand\x22,\x22deferId\x22\x3a\x22rb66035b52f2a423ea36b32523dd95651\x22,\x22deferredContainerId\x22\x3a\x22\x2fmain\x2frdpSecondaryAd\x22,\x22deferredContainerView\x22\x3a\x22DoubleClick\x22\x7d,\x22viewName\x22\x3a\x22DoubleClick\x22\x7d'); var configuration = {"adId":"OMP/m_bettycrocker/recipes/300x250_bottom","minPageWidth":"299","maxPageWidth":"767","defaultMinPageWidth":"1000","defaultMaxPageWidth":"9999","enableLyticsIntegration":true,"lyticsWaitTimeThreshold":5000,"size":"[[300,250], [300,600]]","refreshWhenViewed":false,"adContainerId":"57cb6772-d64b-4858-902e-7b827881f6da","doubleClickAdContainerId":"e4e95604-8edb-4f13-890a-cc9e35070d29","adCaptionText":"Advertisement","networkCode":"/15704463/","relevantMetadata":["Dinner"],"privacyOptOut":false,"continuesBelowText":"Recipe Continues Below"}; var moduleName = 'doubleClick'; var isVueModule = true; GeneralMills.PandoSites.RegisterControlInstance(moduleName, configuration, componentMetadata, isVueModule) }); })();
(function() { document.addEventListener('DOMContentLoaded', function() { var componentMetadata = JSON.parse('\x7b\x22componentName\x22\x3a\x22ThirdPartyScript_7f5ece18-f272-4507-b587-2b0170754cf5\x22,\x22deferOptions\x22\x3a\x7b\x22deferComponent\x22\x3atrue,\x22deferType\x22\x3a\x22OnDemand\x22,\x22deferId\x22\x3a\x22r288d6bef05f74480ad609e7e902cd7b9\x22,\x22deferredContainerId\x22\x3a\x22\x2fmain\x2frdpSecondaryAd\x22,\x22deferredContainerView\x22\x3a\x22ThirdPartyScript\x22\x7d,\x22viewName\x22\x3a\x22ThirdPartyScript\x22\x7d'); var configuration = {"placeholderName":"rdpSecondaryAd","domContent":"\u003cdiv id=\u0022ntvoAdSpot\u0022 style=\u0022height:20px;margin-bottom:-20px;\u0022\u003e   \u003c/div\u003e","scriptContent":"//s.ntv.io/serve/load.js","onLoadScript":""}; var moduleName = 'thirdPartyScript'; var isVueModule = true; GeneralMills.PandoSites.RegisterControlInstance(moduleName, configuration, componentMetadata, isVueModule) }); })();
(function() { document.addEventListener('DOMContentLoaded', function() { var componentMetadata = JSON.parse('\x7b\x22componentName\x22\x3a\x22NewsletterCTA_4f217c5a-0524-4bd2-acfd-e899ad55803e\x22,\x22deferOptions\x22\x3a\x7b\x22deferComponent\x22\x3atrue,\x22deferType\x22\x3a\x22OnDemand\x22,\x22deferId\x22\x3a\x22r0c9d327612424409bfe59f2707f3aaa1\x22,\x22deferredContainerId\x22\x3a\x22\x2fmain\x2frdpMobileSubscriber\x22,\x22deferredContainerView\x22\x3a\x22RecipeDetail\x22\x7d,\x22viewName\x22\x3a\x22NewsletterCTA\x22\x7d'); var configuration = {"unsubscribedNewsletters":[{"listId":"1e34a555-89d1-45f0-8f07-b3ae6b01c03c","thumbnailImageUrl":"/-/media/Images/Shared/myaccount/newsletters/BC_Thumb157x157.png","previewUrl":"https://morpheus3.idpk.net/email_sends/9111/preview","name":"Betty\u0027s Email","isPromo":false}],"settings":{"anonymousCopy":"Subscribe for more recipe inspiration","anonymousThankYouCopy":"\u003cp\u003eThanks! Your first email is on its way.\u003c/p\u003e\n","anonymousThankYouDescriptionCopy":"\u003cp\u003e\u003cspan\u003eNow that you\u0026rsquo;re signed up, create an account on BettyCrocker.com to save your favorite recipes, learn more about special promotions and get inspired through Betty\u0026rsquo;s expert tips.\u003c/span\u003e\u003c/p\u003e","anonymousButtonText":"Sign Up","anonymousEmailInvalidErrorText":"Please enter a valid email address.","anonymousSubscribeErrorText":"We encountered an error while signing you up. Please try again.","anonymousEmailAddressPlaceholderText":"Enter your email address","backgroundColor":"#EEEEEE","registrationUrl":"/register/reg-fp?RegAction=SUBSCRIBERUPGRADE\u0026esrc=11275\u0026returnUrl=%2frecipes%2fcitrus-soy-glazed-wings%2f5c428c14-5fff-43df-a33d-807680fab717","registrationLinkText":"Join free!","hideForSessionCookieExpiration":0,"ctaType":"StandardAnonymous","location":"Inline","userState":"Anonymous","sourceCodeOverride":0}}; var moduleName = 'newsletterCta'; var isVueModule = true; GeneralMills.PandoSites.RegisterControlInstance(moduleName, configuration, componentMetadata, isVueModule) }); })();
(function() { document.addEventListener('DOMContentLoaded', function() { var componentMetadata = JSON.parse('\x7b\x22componentName\x22\x3a\x22NewsletterCTA_4efe339e-6145-4499-9dd0-f5a81fd55e52\x22,\x22deferOptions\x22\x3a\x7b\x22deferComponent\x22\x3atrue,\x22deferType\x22\x3a\x22OnDemand\x22,\x22deferId\x22\x3a\x22r9504aa2f036448138ac1def3c4f25864\x22,\x22deferredContainerId\x22\x3a\x22\x2fmain\x2frdpInlineSubscriber\x22,\x22deferredContainerView\x22\x3a\x22RecipeDetail\x22\x7d,\x22viewName\x22\x3a\x22NewsletterCTA\x22\x7d'); var configuration = {"unsubscribedNewsletters":[{"listId":"1e34a555-89d1-45f0-8f07-b3ae6b01c03c","thumbnailImageUrl":"/-/media/Images/Shared/myaccount/newsletters/BC_Thumb157x157.png","previewUrl":"https://morpheus3.idpk.net/email_sends/9111/preview","name":"Betty\u0027s Email","isPromo":false}],"settings":{"anonymousCopy":"With Betty by your side, you\u0027ve got it made.","anonymousDescriptionCopy":"The secret ingredient is right in your inbox! Tasty trends, trusted tips and knock-it-out-of-the-park recipes you can turn to again and again.\u003cbr /\u003e\n\u003cdiv\u003e\u0026nbsp;\u003c/div\u003e","anonymousThankYouCopy":"\u003cp\u003eThanks! Your first email is on its way.\u003c/p\u003e\n","anonymousThankYouDescriptionCopy":"\u003cp\u003e\u003cspan\u003eNow that you\u0026rsquo;re signed up, create an account on BettyCrocker.com to save your favorite recipes, learn more about special promotions and get inspired through Betty\u0026rsquo;s expert tips.\u003c/span\u003e\u003c/p\u003e","anonymousButtonText":"Sign Up","anonymousEmailInvalidErrorText":"Please enter a valid email address.","anonymousSubscribeErrorText":"We encountered an error while signing you up. Please try again.","anonymousEmailAddressPlaceholderText":"Enter your email address","standardSmallImageUrl":"/-/media/Images/BC/seasonal/2021_Christmas/ncta_bg.png","standardLargeImageUrl":"/-/media/Images/BC/seasonal/2021_Christmas/ncta_bg.png","backgroundColor":"#333333","patternImageUrl":"/-/media/Images/BC/seasonal/2021_Christmas/ncta_bg.png","registrationUrl":"/register/reg-fp?RegAction=SUBSCRIBERUPGRADE\u0026esrc=11275\u0026returnUrl=%2frecipes%2fcitrus-soy-glazed-wings%2f5c428c14-5fff-43df-a33d-807680fab717","registrationLinkText":"Join free!","hideForSessionCookieExpiration":0,"ctaType":"StandardAnonymous","location":"Rail","userState":"Anonymous","sourceCodeOverride":0}}; var moduleName = 'newsletterCta'; var isVueModule = true; GeneralMills.PandoSites.RegisterControlInstance(moduleName, configuration, componentMetadata, isVueModule) }); })();
(function() { document.addEventListener('DOMContentLoaded', function() { var componentMetadata = JSON.parse('\x7b\x22componentName\x22\x3a\x22DoubleClick_a64e89d5-b3d5-45ea-8f7e-3efb4a0c90ce\x22,\x22deferOptions\x22\x3a\x7b\x22deferComponent\x22\x3atrue,\x22deferType\x22\x3a\x22OnDemand\x22,\x22deferId\x22\x3a\x22r6938201a516843be92d01c4c0ecb20f6\x22,\x22deferredContainerId\x22\x3a\x22\x2fmain\x2frdpTernaryAd\x22,\x22deferredContainerView\x22\x3a\x22DoubleClick\x22\x7d,\x22viewName\x22\x3a\x22DoubleClick\x22\x7d'); var configuration = {"adId":"OMP/bettycrocker/recipes/300x250_bottom2","minPageWidth":"1000","maxPageWidth":"9999","defaultMinPageWidth":"1000","defaultMaxPageWidth":"9999","enableLyticsIntegration":true,"lyticsWaitTimeThreshold":5000,"size":"[[300,600],[300,250]]","refreshWhenViewed":false,"adContainerId":"a27832a7-c308-40d4-838d-ba26abb57f6b","doubleClickAdContainerId":"144ec87a-c0ae-4dbf-9352-1b17b2e26e71","adCaptionText":"Advertisement","networkCode":"/15704463/","relevantMetadata":["Dinner"],"privacyOptOut":false,"continuesBelowText":"Recipe Continues Below"}; var moduleName = 'doubleClick'; var isVueModule = true; GeneralMills.PandoSites.RegisterControlInstance(moduleName, configuration, componentMetadata, isVueModule) }); })();